Our Vice President of Design, Darla Dillon, recently spoke with Multifamily Executive on how to deliver the resident experience through design. Gone are the days when an apartment was simply four walls. Today, an apartment represents a lifestyle and, thus, an extension of the resident's identity, making interior design essential to meeting renter's expectations. Read the full contribution below or the original article here.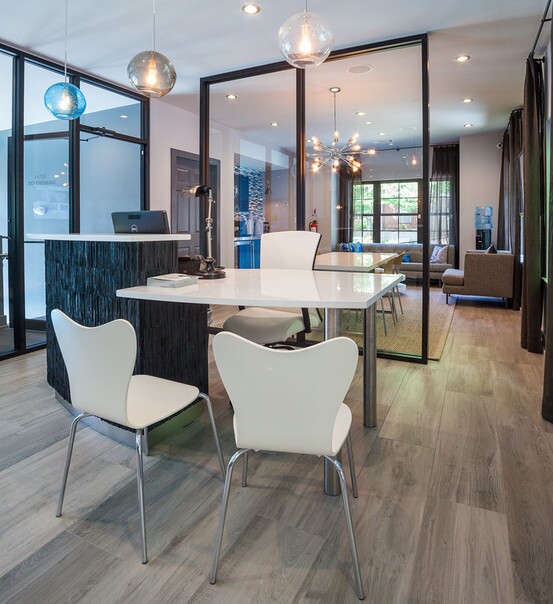 The vision of a single-family home in the suburbs surrounded by a white picket fence has changed into something that looks much different in American society today. Picture this instead: a well-located apartment with luxury (yet affordable) aesthetics and design features, connected technology, and first-class, resort-style amenities. Sounds pretty nice, doesn't it?
This change in living ideals is largely supported by the fact that the country's homeownership rates dropped to 63.4% in 2014, the country's lowest rate since 1967, and it's important to understand that this decline is increasingly the result of choice, not of necessity.
For today's renters, demand is driven by preferences rather than price points. Residents are willing to pay higher monthly rates if doing so results in achieving their desired lifestyle. And just like the idea of what we call home has changed, so have actual apartments.
Gone are the days when an apartment was simply four walls. Today, an apartment represents a lifestyle and thereby acts as an extension of the resident's identity. Homes have become reflections of oneself, and, because we always want to showcase our best selves to others, our apartments must reflect this standard.
However, understanding the desired lifestyle of residents is only the first step; figuring out how to deliver on this expectation is the next, and more challenging, task.
New Expectations
A great way to start meeting the expectations of today's resident is to place the resident at the center of your business model, taking on a "resident-first" approach, in which delivering a superior living experience is the ultimate end goal.
One of the most effective ways to appeal to residents is through thoughtful interior design. Design becomes a critical piece in delivering on residents' experience because it affects how they think and feel about the place they call home. Is their community a place they're proud of? Do they want to show off their apartment and its amenities to their friends?
The answer to both questions, of course, should be yes if we hope to meet their expectations of an ideal apartment home.
Enhancing the Resident Experience Through Thoughtful Design
Consumer demand for granite countertops, stainless steel appliances, and smart storage spaces are nothing new for apartment dwellers and aren't unique to the preferences of one demographic or generation. However, the implementation of these attributes should be thoughtful, customized to the target residents, and tied to the local culture.
For example, the use of certain materials may make more sense in one region of the country than another. Likewise, particular tiles or finishes may be more aligned in specific climates and better reflect local culture. Also, depending on the target demographic, specific layouts may be more conducive to the type of lifestyle desired.
For millennials in urban cores, choosing to provide a breakfast bar rather than a kitchen island helps save space while also providing additional seating that encourages socializing and integration of different spaces within the unit—something this generation emphasizes. Seniors, on the other hand, often prefer to do their socializing outside of their apartment, so community spaces conducive to gatherings are particularly important to them.
But it's not just the units themselves that must appeal to residents. The community's amenities must also contribute to the resident's preferred lifestyle. To this end, today's business centers have evolved to resemble more of a coffee shop. Pools are increasingly designed to mimic resorts by offering tanning decks, plush lawn chairs, fire pits, and cabana-style patios. Fitness centers are equipped with the latest technology and offer state-of-the-art machines.
The standards for apartment communities have risen, and multifamily firms must meet these expectations if they want to attract and retain residents.
Advantages of In-House Design Firms
While the above ideas may sound simple, the actual process of uncovering renter demands, prioritizing the resident experience, and implementing thoughtful design elements can involve several different business functions—the coordination of which can be challenging.
By having an in-house interior design firm, the entire process is streamlined, saving both time and money for all involved. Designers stay up-to-date on the latest trends and preferences in décor, and they must translate this knowledge to others in order to source the right materials, construct appropriate layouts, and ensure that each property has a sense of local flair rather than a blanket design.
Interior designers can also help streamline renovation and construction projects. By being involved in the development or renovation process from the start, the interior designer can help connect the roles across the various project functions and make sure the resident experience remains the focus.
Investing in the resident experience and seeking to provide the lifestyle that residents desire is ultimately a driver of success for multifamily firms. Design is just one of many ways to deliver on this demand, but it is certainly one of the most effective.